By Larry Atseff
Elmhurst Magazine recently sat down with Elmhurst University President Troy VanAken, Ph.D., to learn how and why the school changed from 4-year Elmhurst College to 4-year Elmhurst University, and the effects the change is having.
After all, he has been President for 6 years and has been very much involved in the transition, which officially took place in July 2020. As he explains,
"First, we wanted to better reflect the 70 majors and 15 master's programs we offer. That number is going to grow.

Secondly, we wanted to distinguish EU from the many fine 2-year junior colleges nearby. Thirdly, we wanted to attract more international students. Many regard the term "college" as a trade-type of school, and less than a university.
Importantly, at the same time, because the student body is 'majority-minority" and 50% are first-generation college students in their families, it was critical that students and their parents continued to feel welcome, as we made the transition."
"I credit the faculty and staff with the highest and most genuine personal attention they give students so they truly do feel welcome at what is now Elmhurst University."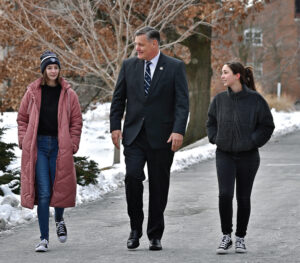 He has to take some of the credit. During our photography session, as we went to three locations, it was remarkable how many students VanAken knew by their first names. He smiles, saying, "The shift is working. Our first-year enrollments have set records.
Alumni giving has also grown nicely. I make it a priority to be visible. I attend Bluejays games and meetings with village officials regularly. I can text just about every key elected official or business leader in town and I will get a reply within the hour.
We have a large number of students participating in Elmhurst's Saint Patrick's Day parade. And, being right in the middle of the bustling downtown of Elmhurst is a real advantage for the students as well as the businesses.
In addition, Union Pacific commuter trains stop in Elmhurst and every station between the Chicago Loop to Elburn in the west, so it is a convenient commute. It all helps."
"I credit the faculty and staff with the highest and most genuine personal attention they give students so they truly do feel welcome at what is now Elmhurst University."
Other performance measures bear out how well Elmhurst University is performing these days for the approximately 3,800 students attending.
US News & World Report ranks EU #13th Best Regional university in the Midwest, and #1 in Illinois, #8 in social mobility, #9 among most innovative schools in Midwest.
Forbes ranks it the 16th America's Best College in Illinois. And, very importantly, US News ranks EU as #19th Best Value for Universities in the Midwest. Retention of students from freshmen to sophomores is a high 70%.
The student-to-teacher ratio is very good at 13:1. Classes are taught by 158 full-time faculty (no student aides) and 82% have the highest education level in their specialty. There are 70 majors and 15 master's degree programs.
In other words, educationally, the school has a lot to offer. About 1000 of the 3800 students enrolled, live on campus. And the 48-acre campus itself is another advantage.
It is a beautiful arboretum of hundreds of Elm trees and classic architecture.
The Athletic Department fields teams in 23 NCAA Division 3 Athletic sports and several Elmhurst teams are quite successful. The Bluejays basketball team this past year got to the finals.
Besides classes and athletics, the university has dozens of student activity groups to help them round out their experience. It also boasts a very welcoming Student Activities Center, complete with a fireplace.
So, all in all, things are progressing well. So much so, that parking on campus is going to become a bit of a problem, as the school is hemmed in by the railroad tracks, homes, and the downtown itself.
As VanAken says, "It is a nice problem to have, and we'll figure it out." We had to agree with him.
*Photos by Victor Hilitiski