By Maureen Callahan
The 1860s gold rush put Arizona on the map. Subsequent discoveries of silver and copper in the decades that followed brought more fortune-seekers.
By the 20s, Route 66 offered a direct path out there, dotted with convenient stopping-off points. But it was the mainstreaming of air conditioning for residential use in the 50s that sealed the deal.
That did it! Vacationers discovered the American Southwest and have never looked back.

We're stunned by its seemingly endless big skies and enchanted by its barren and sometimes hilly landscape, broken up by hundreds of species of bizarrely-shaped cactus. Come enjoy endless sunny days and cool, starry nights.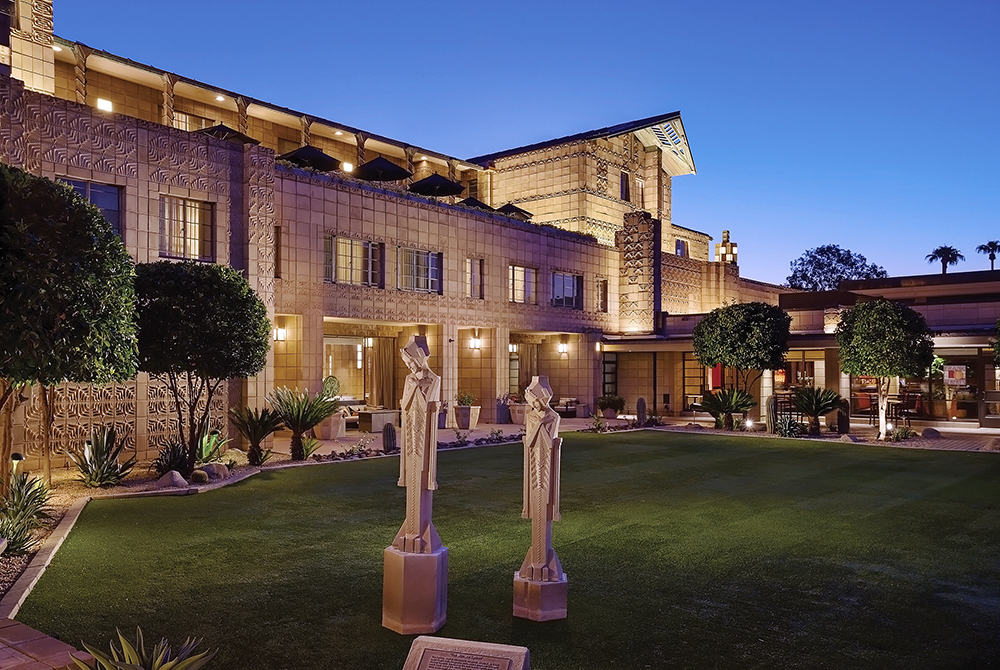 The Arizona Biltmore
For almost a hundred years, this world-class desert oasis has been a playground for the most influential people. It's a setting for memorable experiences. Check in to see how the upper crust relaxes.
Elegance has always been at the forefront. Since 1929, it's been the place elites go to hide in plain sight. Don't be surprised if you find yourself expecting to see Clark Gable and Cary Grant discussing a silver screen collaboration over Tequila Sunrises at The Spire Bar.
The resort was the brainchild of Chicago-born brothers, Warren and Charles McArthur. They hoped to lure guests from the Midwest to the desert in their quest to make Arizona a vacation destination. The stock market crashed just a half year after it opened, an event that forced the sale of the resort to chewing gum mogul, William J Wrigley, one of the hotel's original investors.
Frank Lloyd Wright was paid $10,000 for the use of his patented, iconic, block design. To this day, the Prairie Style palace pays tribute to the architect at every turn. The long, linear, and wide open spaces that came to be Wright's calling card lead on to light-filled atriums dominated by arches and fireplaces. Outside, enjoy immaculately kept gardens and grounds.
Now a Waldorf Astoria property, The Biltmore is an historic landmark with an eye toward cool sophistication after recent renovations upwards of $100 million. Now, with 7 pools and 3 restaurants of varied menus for anything from the causal to the gourmet palate, it's a place that makes it easy to take it easy!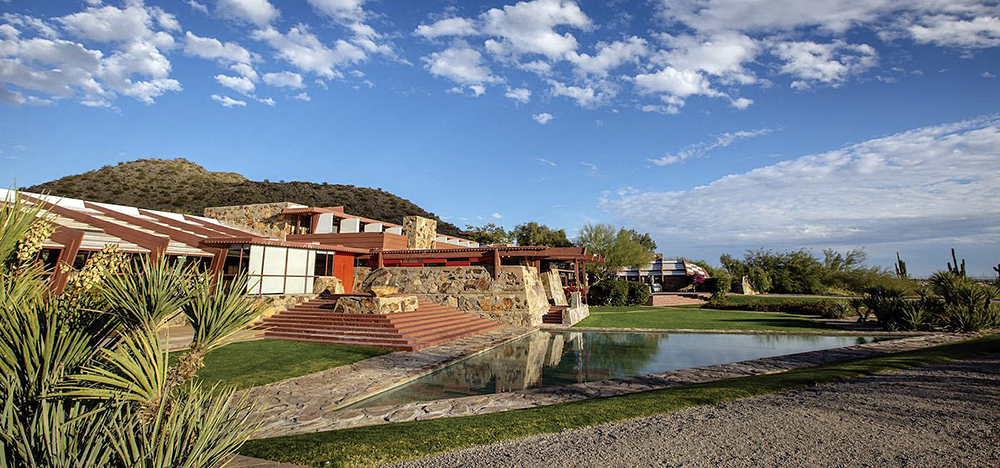 Taliesin West
"Taliesin West is a look over the rim of the world," Frank Lloyd Wright once said of his winter home and school, now a UNESCO World Heritage site. It's easy to understand the feeling behind the sentiment when one visits the Scottsdale complex- built over many years- by the master architect and his apprentices.
Wright purchased hundreds of acres in Scottsdale's rural foothills to create his utopia- an homage to the vastness and wild beauty of the surrounding desert landscape. His vision of a close-to-nature-environment in which to train his students resulted in low-to-the earth buildings crafted from redwood, sand, and stone. Even the artwork and mosaics contain local desert materials.
In addition to his office and private home, the compound constantly expanded to include drafting studios, a dining hall, workshops, theaters and apprentice residences. The form-over-function philosophy he garnered while studying under Louis Sullivan is still evident.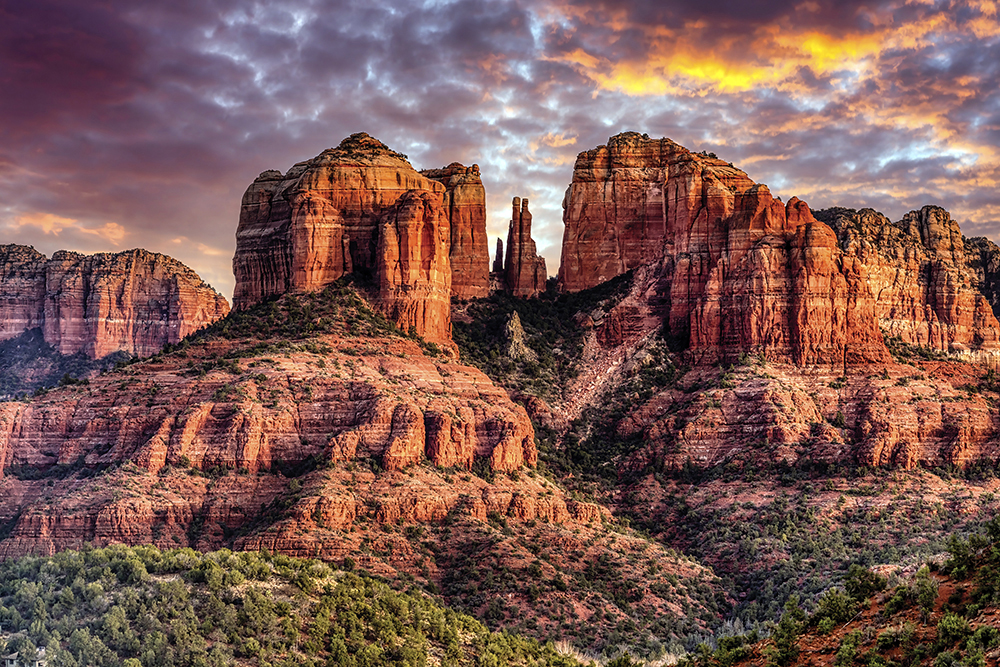 Sedona
For a day trip from the Phoenix/Scottsdale area, check out Sedona. Popularized by American Western films, it is now known for its mild climate, vibrant arts community, and endless offerings of outdoor pursuits.
Exotic red rock formations and sculpted cliffs create a seemingly endless backdrop of geological monuments different from anywhere else on earth. While some come for the world-class spas or alternative healing options, locals know you don't have to try hard to experience the special energy that surrounds the area.
For an up-close-and-personal look at these giant rocks, check out Red Rock State Park. A trek through the park is the best way to get to know it, although driving is also possible. 400 miles of trails offer anyone, from the novice to experienced hiker, a chance to see the rock monuments up close.
While you're in the area, check out the unique Chapel of the Holy Cross, built 250 feet atop the red rocks in the mid-1950s. It has been called one of the ten most beautiful churches in the world by Architectural Digest.
A year-round calendar of arts and cultural events, 80 art galleries, and international film and wine festivals- peppered with endless nights stargazing some of the world's brightest stars- make Sedona a worthy stop on your trip.
AnalogXperiences
If you find yourself thirsty in the desert climate, former Chicagoan and Director of AnalogXperiences, Chris Henderson, can help. This Scottsdale-based backyard-to-bar mixologist offers groups an opportunity to learn how to craft their own designer cocktails. Henderson comes to you to do a hands-on demonstration.
For a flat fee, he shows groups how to make 3 different cocktails. He works with the host of the event ahead of time to learn their palate, then advises the client which alcoholic ingredients to buy. Henderson supplies the glassware, simple syrups he makes from local ingredients, and mixers, such as freshly squeezed grapefruit juice from his backyard fruit trees.
A former bartender himself, Henderson is well-versed in which alcohol works with certain mixers and what will accentuate flavors. "To me, pairing alcohol with mixers is kind of like a fun science experiment!" Henderson said. "There are so many different variables to work with. I love helping people create something beautiful that is also a facilitator of conversation."
For his part, Henderson prefers mezcal- tequila's smoky, not-as-well-known cousin- also distilled from the agave plant. "People like mezcal because it's much less hangover-inducing," he opines. "It's made from a number of different plants, each of which has a distinct flavor profile. It's fun to create various cocktails with it." Find Henderson on Instagram, @AnalogXperiences.