by Larry Atseff | Photos by Victor Hilitski
Last year, York High School Football came within one game of the state championship. This is the story of how they did it and how they are continuing to do it under Head Coach Mike Fitzgerald.
Elmhurst Magazine likes telling success stories. They are a nice change of pace from today's headlines and can be uplifting. They are also worth telling because one can always learn from successful people.
One formula for success that works is finding the right person at the right time who fills a critical need. Five years ago, the York High School football program needed a change from top to bottom.

There were several candidates for running the entire football program, from the freshman teams up to the varsity. Mike Fitzgerald won the job. Elmhurst Magazine recently sat down with Fitzgerald to learn how he became an outstanding candidate and turned around the program in just four years.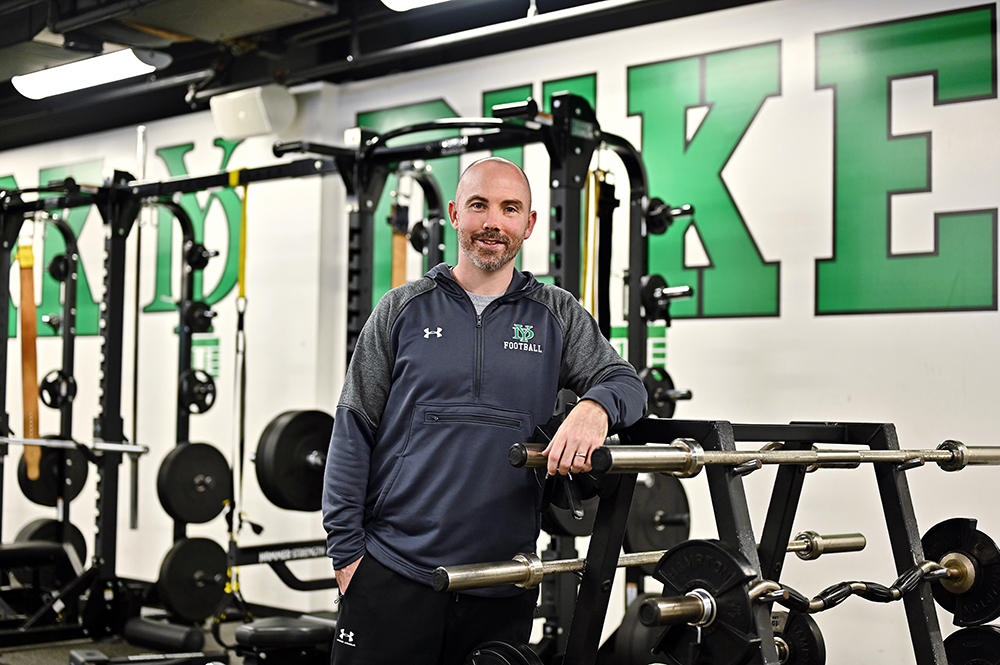 Fitzgerald's background is different from most high school coaches. Instead of moving up the ranks in one high school, he took a different route, which worked well for him.
After playing high school football in Colorado at Kent Denver High School as a wide receiver, Mike was recruited to the Midwest to Lake Forest College in the northern suburbs of Chicago. He played all four years at that Division 3 level. At that time, he decided to try coaching.
He said, "I started at the bottom of the totem pole. I broke down game film to show players and coaches what was being done wrong and right. I learned the basics of each position which was a great background for being a head coach, and I loved it. I also worked in various roles coaching receivers and quarterbacks and coordinating special teams and offensive units."
"After four years coaching at the college level, I moved on to Marist High School, a private Catholic High School in the southwest suburbs of Chicago. It is known for its academics and high-ranking sports teams.
When I joined, it needed a complete rebuild. I stayed there for six years as an offensive coordinator. In that time, we made the playoffs six times and had one State Championship appearance in 2009."
"Next, it was on to St. Francis in Wheaton for two years as a Head Coach. I then joined larger Naperville North HS as an offensive coordinator for two years. All the while, I got exposed to different styles of coaching, schemes, and philosophies, which was a great experience to run a big program from freshman up to varsity."
"During that time coaching high school and college, you are constantly dealing with changes in talent levels with each new class. The experience of adjusting to your personnel every year and being exposed to various schemes has been extremely beneficial in building an offense around our personnel and talent."
Coaching at smaller schools also helped, according to Mike. "In those situations, since you have to do more of everything, you learn to pay attention to all the details and stay organized."
"At every school, I was learning more about football and the importance of building relationships and gaining trust among the players, their parents, and coaches. Trust is essential to build belief and influence winning behaviors. Without trust, players may be just going through the motions of 'want to' instead of 'have to.'"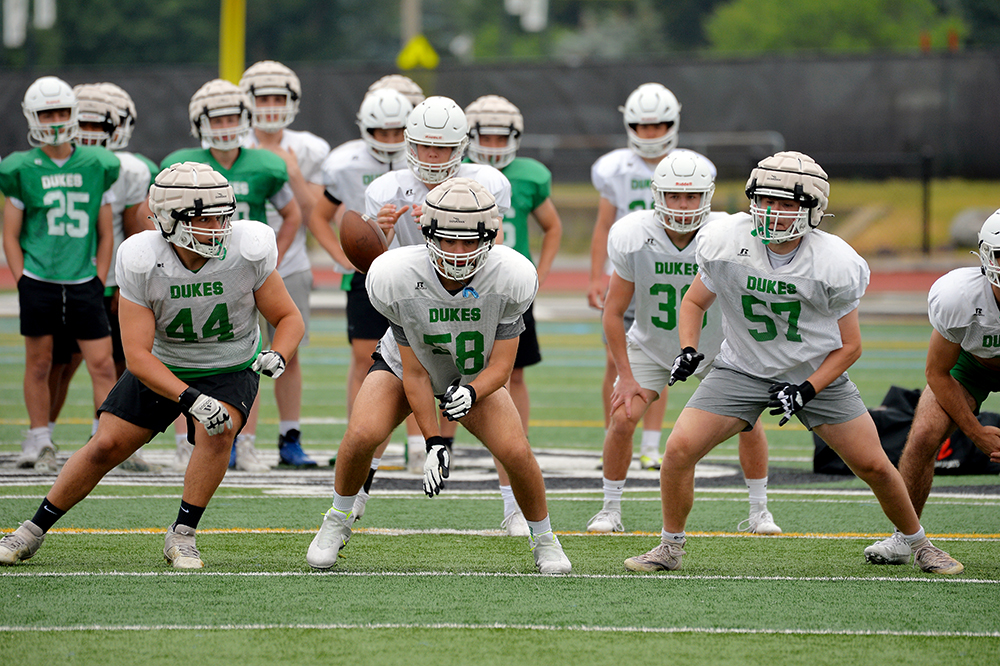 "In 2018, the job of running the football program at York opened. It was a great opportunity. It had a legacy, fan support, great facilities, and a strong feeder program for youngsters. Most of all, it wanted to restore the program."
As it turns out, Fitzgerald was ready to meet the opportunity and change the culture.
"The first thing I saw that was needed was a buy-in…a belief that it would be worth the effort it was going to take to get back to York's glory days," said Fitzgerald. It was going to take sacrifice and character. That went for the players and the staff of 18 coaches, both returning and new."
"I told them all we were going to train hard, we are going to play hard, and we are going to see results."
"Our first two years, we went 8-10, and then 4-2, the third year, during the shortened Covid season. The seniors during the Covid year were tremendous leaders that kept the momentum going during that difficult time. During that Covid year, we started a streak of winning 24 of our next 27 games, which included an 8-2 season in 2021 and a 12-1 season in 2022 which was one game away from the State Championship.
Our count of players overall has gone from 145 to 230 during that time.
"At the start of this, we talked about the power of belief and behaviors. We now have enthusiastic believers, from players to coaches to parents to the entire school community, and our behaviors have changed tremendously on and off the field. They now believe and understand the importance of hard work, commitment, character, positive attitude, and discipline."
Fitzgerald exudes sincerity and enthusiasm for his job as head coach. It is infectious in a good way. It certainly helped him clinch the job and has helped over the last four years. He quickly points out that the coaching staff buy-in has been extraordinary.
He said, "Believe me; they have made a huge difference in setting the tone and attitude."
York has lost 40 seniors who were with Mike at the beginning.
"Fortunately," he says, "These 40 learned how to win, and they have passed on the attitude and willingness it takes to win to their younger classmates. Because of that, I am looking forward to a long tradition of winning. Most important, I am proud that these student-athletes are learning what it takes to be successful in more than football." ■