By Maureen Callahan
One of the best things about luxury travel is the accommodation. What makes a hotel memorable? Décor? Amazing cuisine? Unparalleled hospitality? To get a local look at all three in the same place, check into The Drake Oak Brook, Marriott Autograph Collection. You'll feel like you're at home.
And among family- specifically the Nagle family. It's likely you'll see Jim and Tely Nagle, proprietors of The Drake, personally overseeing the details of daily operations. They're in plain sight at any moment, most days.
For Jim, an Elmhurst native, it's special to be living and working there, so close to where he grew up. "Elmhurst is a great community," Jim believes. "I have great memories of York High School and lots of friends from that community. I love running into people I know from there, from time to time."

The Nagles have brought this Oak Brook landmark back from oblivion.
And made it stunning!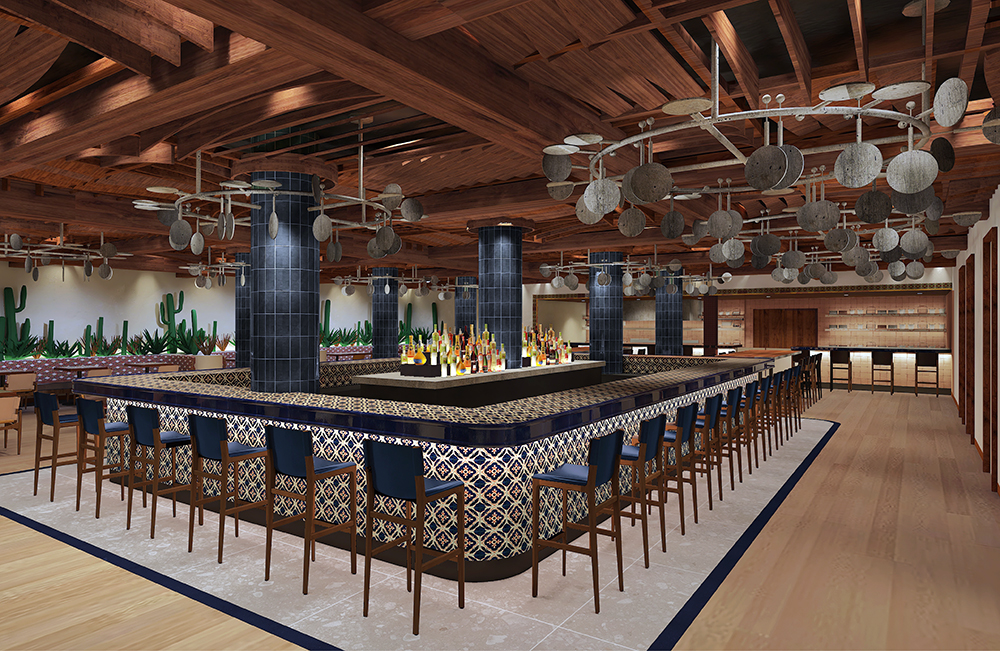 Built in 1962, the hotel had several successful decades before falling into derelict condition. It eventually closed in 2009. Four years later, the Nagles bought the property. "Every investor and hotel company that initially looked at it said this couldn't be done," said Jim. "It's probably a good thing Tely and I weren't hoteliers to start with," he laughed. "We didn't realize all that could have gone wrong!"
At 6 a.m. the day after they signed the papers, the Nagles were at the hotel- sleeves rolled up – alongside their workers. Everybody grabbed a hammer, saw, or paint brush and went to work. Having previously owned multiple-unit properties in the city, Jim and Tely had some restoration experience. What they didn't know, they learned from their helpful crew.
They spent a long time formulating a clear vision of what the property would look like. And little by little, it began to happen, thanks to their laser focus and that of their team. Board by board and wall by wall, it's always been about teamwork. "I really believe we're all equal here," said Tely. "We all have a role to play."
Fast forward to the pandemic several years later, when they found themselves with a workforce of 120 people and an empty hotel. "We have an amazing staff," Tely relayed.
"We always feel that we're all in this together. The pandemic was no different."
Rather than furlough everyone, the Nagles tapped into their retirement fund to employ the team for a massive remodel. Everyone was able to stay employed and keep their health insurance.
"We had two team members undergoing cancer treatment at the time," said Tely. "It would have been devastating for them to lose their health insurance." Cooks, waitstaff, and housekeepers began plastering walls and doing other various construction tasks. The result is the hotel's current state- gorgeous!
The lack of turnover from their loyal staff is no surprise. The positive morale on display at this hotel is a study of the trickle-down effect. "The people who work for us love working here," said Tely. "We're lucky to have them." Every day, the staff is in the presence of Jim and Tely on the job. But more as co-workers than supervisors. The result is a staff that would do anything for their employers. "Our staff has as much pride in The Drake as Jim and I do," Tely believes.
From the beginning, the couple has made no small plans. Once one vision is achieved, the next one is on the horizon. You'll feel it in big and small ways.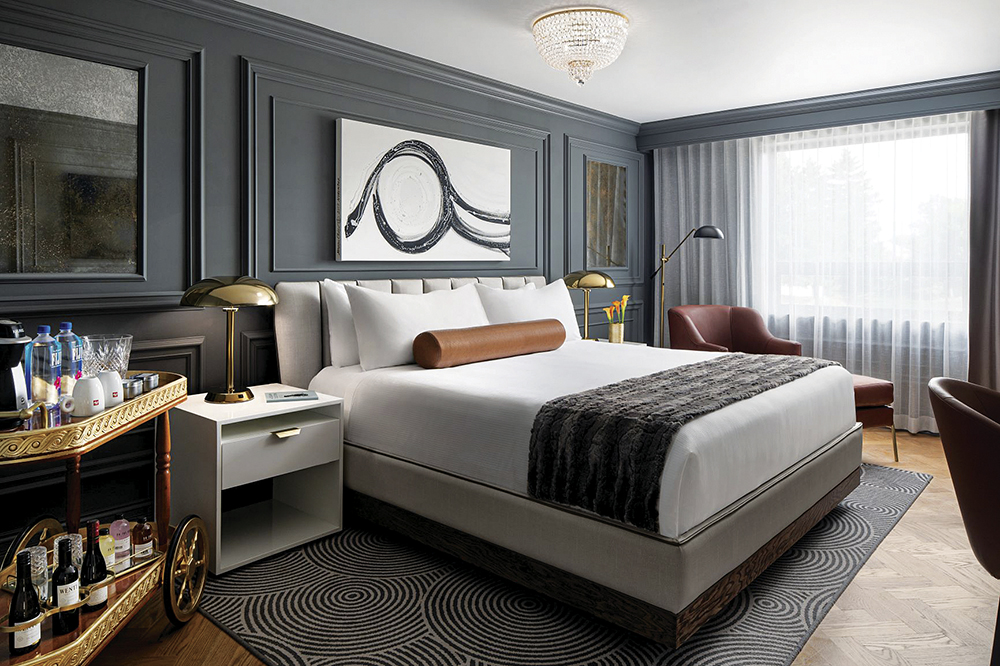 Each of the hotel's rooms, in both the main building and annex, has been remodeled to the nines with the inspiration of either a woman's scarlet ball gown or a man's gray, flannel suit. All have hardwood floors partially covered in tight-weaved rugs, appointed with luxuriously comfortable furniture. The work of a local Hinsdale artist adorns the walls of the guest rooms and hallways.
Guests find a skeleton key waiting in the room when they check-in. "It's the key to your escape," said Jim. "Whatever escape you need- worry, reality, escape into the past." The guest is invited either to keep the key and use it as a keychain or redeem it throughout the hotel to 'unlock' their 'escape' at the bar or the spa and get something in exchange, such as an appetizer or drink. "People love it," Tely said.
Sophisticated indoor and outdoor options make dining at the hotel a memorable experience. Menus of varied cuisine, planned by award-winning chefs, offer something for every palate, all day long, with afternoon tea on weekends. The Colonial Room offers a creative take on American favorites. Dine alfresco on The Patio in warm months, with a view of the gardens.
Beautifully garnished craft cocktails and a wide selection of whiskies make the Polo Lounge the perfect place to relax. Try the organic tequila with freshly squeezed sweet and sour to make any visit feel festive.
Let the aroma of coffee lead you downstairs to Aroma de Café, on the hotel's ground floor. Where else in the area can you pick up a Starbucks crafted coffee drink, or snack, while you admire the work of artists such as Marc Chagall or Salvador Dali? This is also the country's first point of sale for Oregon's award-winning Tillamook ice cream by the scoop.
And despite all the amazing amenities, there are many more coming. The Nagles are not people of narrow vision.
The property consists of ten acres. A new building is in the works. Residences, similar to those of the Ritz Carlton or St Regis, will be available on the third through sixth floors. The lower level will contain a world-class Roman-inspired spa by Jacuzzi Brand. While Jacuzzi has several world-class European spas, this will be the first spa of its kind the company has embarked on in North America.
While the Drake's outdoor space is already amazing, plans for many more gardens are drawn. Jim has done much of the landscaping alongside his crew, building Romanesque waterfalls and columns. Several more are on the way. Guests will soon be able to stroll through a Vatican Garden-inspired garden. Pools are in the not-so-distant future.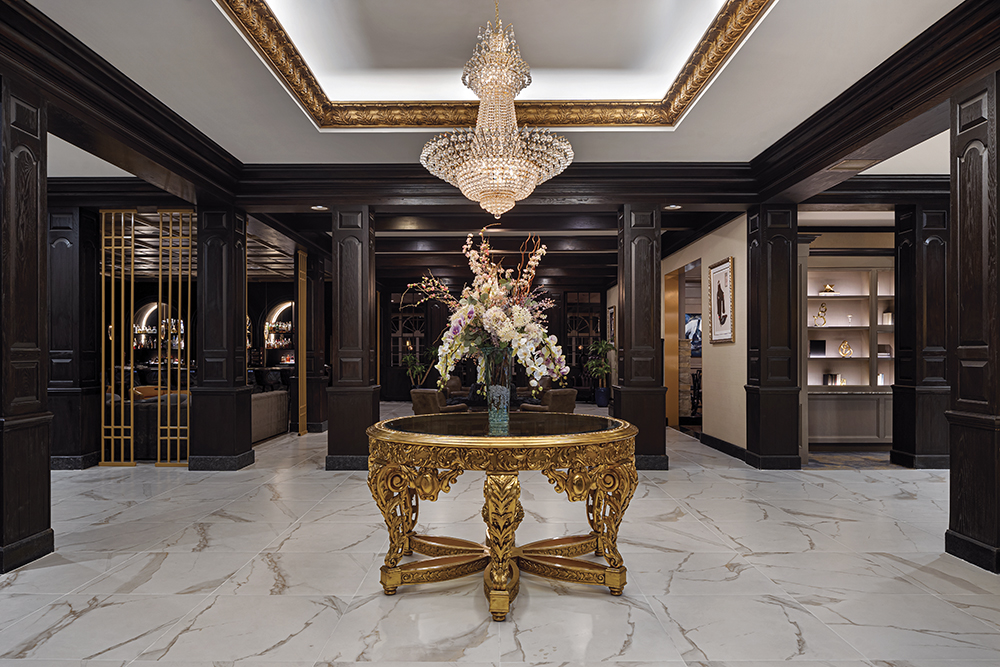 Their newest venture, COA, (the tool used to harvest the blue agave), will be a Spanish/Mexican fusion restaurant- a nod to Tely's mixed heritage. It will open at the end of September and will be located on the ground floor, featuring a walkout space. The menu will be tapas, with high-end Mexican cuisine, planned by Executive Chef Esequiel Dominguez whom Chicagoans will remember from Café Iburico. The vision is a masculine, bar-centric restaurant featuring both indoor and outdoor seating, where customers will relax on sixty-some bar stools designed by Tely. Private dining will also be available.
"There aren't a lot of places nearby that are open past 10 p.m., so we'll be happy to be able to offer that to our guests and people in the area," said Jim.
And it's not just the hotel property that's expanding. The Drake brand is embarking on some new endeavors, having recently signed a licensing agreement with the largest luxury-charting yacht company in Latin America.
"The Drake is like our baby that will never grow up," Jim laughed. ■