By Dave Noble
Elmhurst residents have been supporting craft beer for more than a decade. There's a brewery in town, a yearly beer festival, and just about every local restaurant and bar has craft beer options. So it was not much of a surprise when a craft beer shop opened up in the heart of Elmhurst City Centre a few months ago.
Located at 105 N. York St., Beer on the Wall is both a retail store and a bar. Bottles and cans can be purchased either for consumption on-site or taken home. The walls, shelves, and refrigerator display hundreds of beers and dozens of beer styles. What separates a bottle shop from a traditional liquor store is the vast selection of limited distribution, hard-to-find beers, and the option to purchase single cans.
According to Corporate Buyer and Development Manager Adam Vavrick, Elmhurst was an easy choice for Beer on the Wall to open its third location. "Elmhurst had all the things we look for, said Vavrick, "A train line, a bustling downtown, and a commitment to transit-oriented density."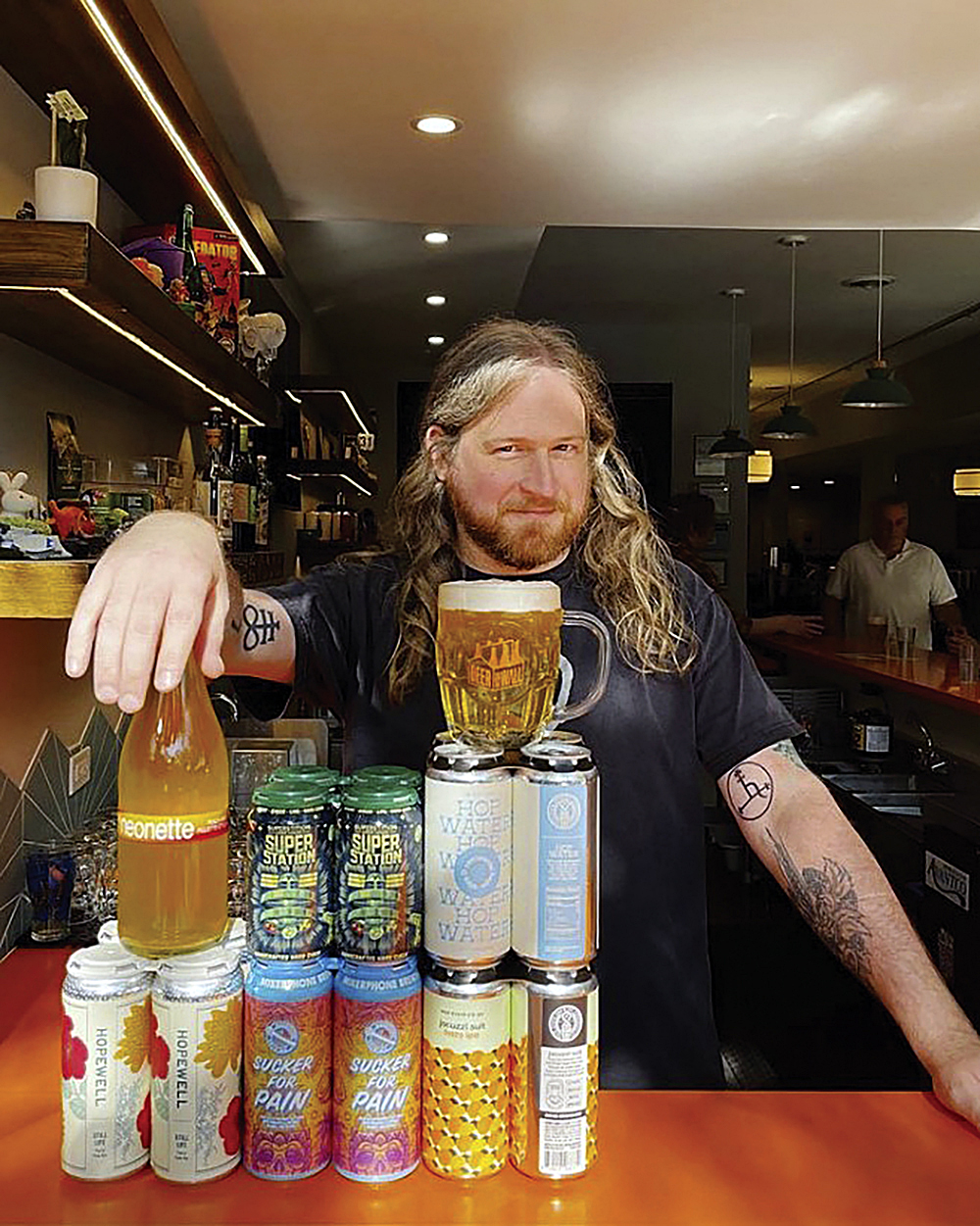 There are 20 craft beers, ciders, and seltzers on tap, plus an additional "beer engine" tap handle with a rotating cask-conditioned beer. For those interested in traditional big beers, customers will find that Beer on the Wall also sells common products like Miller Lite, Budweiser, Pabst Blue Ribbon, and Modelo.
In addition, they also have a small but thoughtfully curated collection of wine and spirits for on-premise consumption. While Beer on the Wall does not serve food other than some salty snacks like pretzels, customers are allowed – and encouraged – to bring in food or have it delivered to the store.
Inside Beer on the Wall is an inviting space for customers to hang out. Lower-seated tables, console video game systems, a weekly trivia night, and frequent beer tastings often hosted by brewery representatives are among the reasons that people want to spend time at the bottle shop.
Plentiful sidewalk seating, including a walk-up service window with bar stools make for a pleasant outdoor experience as well.
For Vavrick and his staff, fitting in with other bars and restaurants in the area is among his primary goals. "We're really excited to be a part of Elmhurst. It's been cool to get things up and running and see how we fit into the neighborhood."
In addition to collaborating with Elmhurst Brewing Company last year to create a special beer for the 2022 Elmhurst Craft Beer Fest, Vavrick has worked with local restaurants to make ordering food easy for customers. "We want people to visit the nearby restaurants and bars to ensure that our neighbors are doing well."
Connecting with people is also a top priority for Vavrick and his staff. "It's been fun trying to create new regulars. People who came into our place on the first day are still coming in. We have a bit of a different vibe than other bars. We challenge you to try different things."
Business hours for Beer on the Wall are 2:00-9:00 p.m. Sunday-Thursday, and 11:00 a.m. to 11:00 p.m. on Friday and Saturday.■