by Larry Atseff | Photos by Laura Meyer
Pete Harmon, and his wife, Becky, are the current proprietors of the Spring Inn. Pete recently sat down with Elmhurst Magazine to recount some of its colorful 90-year-old history on Spring Road in Elmhurst and how it is evolving.
A Little History
"The Spring Inn, at 552 S. Spring Road, is the oldest bar in town at the same location since the early 1930s," Pete said. "Before that, the building housed a Ball shoe store. The name, Spring Inn, dates back to the early 1960s."

Dave Agnew owned the bar from 1983 until he sold it to Pete in 2017. The bar was well known for serving quality food until the kitchen closed ten years ago, although it still offers pizza which is quite popular.
Pete said, "I would love to serve food from a menu, but as a father with a growing family, I had to decide on serving food or spending more time with my growing family. I chose to be more active with my children." (Pete enjoys coaching his son's baseball team and the daily drop-offs for school and other activities.)
He adds, "Although it was a tough decision not serving food, it has led to many people deciding to come to Spring Inn for parties and fundraisers. The idea of not being obligated to a set menu allows customers to bring in food of their choice."
As a result, without the regular grind of serving food, he has been able to concentrate on the bar and the atmosphere, working to keep regulars happy and welcoming new faces.
And, therein lies the secret of a neighborhood bar – a "dive bar" – where regulars like to congregate. In the early days, the Spring Inn fit the description of a "dive bar," defined as "a comfortable but-basic-neighborhood pub" by the Urban Dictionary.
Shawna Cory recently wrote in the Boston Eater, "A dive bar is a watering hole…a perfect place to celebrate a happy occasion, drown your sorrows, or just watch a game on a Sunday afternoon."
There's a certain level of comfort in knowing what to expect. A good dive bar will make you feel at home even if you have never been there. It can also be easy on the wallet.» According to sociologist Kathy Giuffre, "It serves as a 'third place'… outside the home or work where you can build a little community."
The Spring Inn fits both descriptions perfectly. And guests agree.
"The Spring Inn is a guaranteed good time on Saturdays and Sundays when Evan bartends."
– Yelp.com
"Great tunes, nice crowd, and the bartender Pete is awesome!"
– Yelp.com
"This is a great neighborhood bar… they do not serve food as of now… great place to meet up with friends."
-Tripadvisor
Pete said, "Since we bought the place six years ago, and during the pandemic, we have taken a 'cozy, homey, nostalgic' dive that needed some love and turned it into a clean and simple neighborhood tavern."
"The regulars are the key, and so are my bartenders, several of whom have been here for over ten years," Pete continued. "Over time, the regulars have come to know they can ask each other questions and who has the best advice on certain subjects. That's just the way it is…people helping and looking out for each other."
The Bar And Other Improvements
One of the other most important features of the Spring Inn is the bar itself. The bar and back shelf are a classic 19th-century design believed to have been built in 1917.
It was brought from a bar in Berwyn to Elmhurst in the 1930s. Over decades, as many as a half-dozen coats of lacquer were added to the previous layer. When the pandemic closed the bar down, with the help of his wife and in-laws, Pete completely stripped, sanded, and then it was polyurethaned.
It was a pleasant surprise to find a bar top made of Honduran Mahogany, and the face of the bar was crotch Walnut. That size of Mahogany is simply not available anymore. When guests pass through the front door, they are greeted with the unique wood bar – a true piece of history.
Of course, the bar offers a solid array of Scotch, Bourbon, other liquor, and popular beers and seltzers.
With the help of Pete's father, good friends Don Mulvey and Rick Gehr, and countless others, they completely cleaned up the inside and added a new exterior. "It was an example of the bar family coming together," Pete said.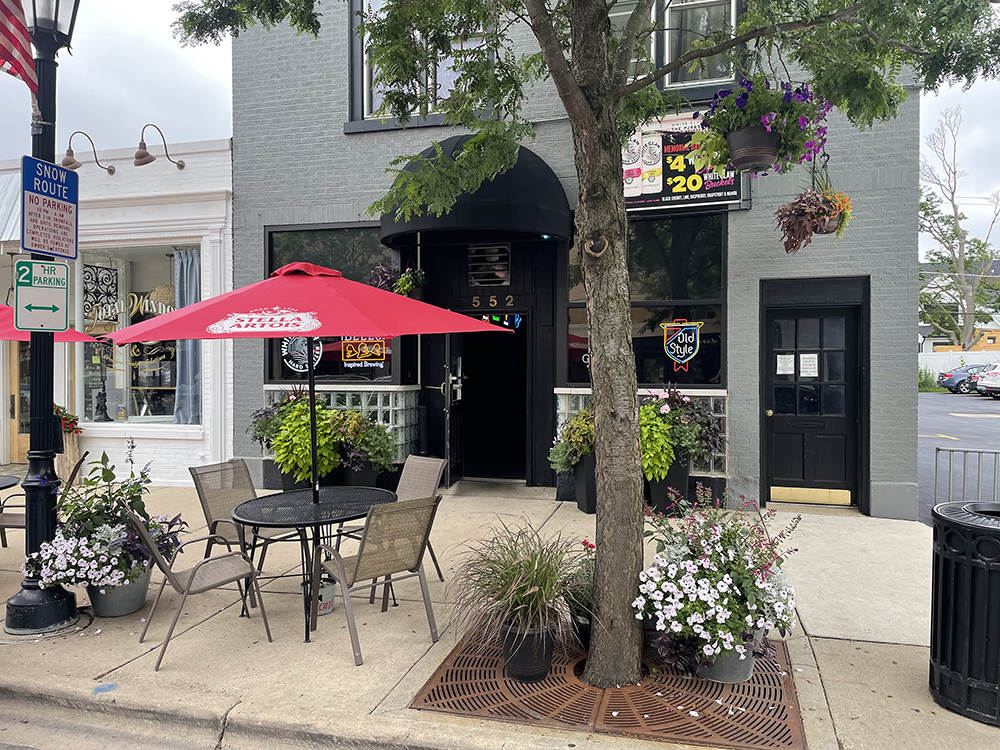 How Pete Harmon Came To Be A Spring Inn Customer, And Then The Owner
Pete grew up in Elmhurst at Third and Walnut, in the middle of what is now Elmhurst Centre, and described growing up as a storybook childhood.
He walked a mile each way through Elmhurst College and Wilder Park to Immaculate Conception Grammar School and then attended York High School, graduating in 1991.
One of the best ways a young man could make money in Elmhurst, and still is, was to caddy at a local country club. Pete caddied at Butterfield Country Club and described it as "the best job I ever had.
I learned about a hard day's work, the value of money, as well as a lot of things they don't teach you in school. The whole experience for me was like the movie Caddyshack."
"As it happened, one of the local caddies, Mike Leen, also bartended at the Spring Inn. After a long day on the course, we would gather at night for a few cold ones," Pete said. "The first time I stopped in, I may have been a little young, but I instantly fell in love with the place."
After putting in his time and gaining the respect of the regulars, he became a part of the bar family. Although he came from a great loving family, he was amazed by the camaraderie and how almost any problem or issue in life could be solved or helped by someone in that bar family.
Pete knew he wanted to buy it within a few years of being a patron. Years passed, and after a career in mortgage lending, Pete decided to work full-time at the bar. Dave taught Pete the business, and the two devised a plan for Pete to take over.
Pete said, "I felt that if I didn't buy the place, I and many others over many generations would feel they would lose a place very special to them. These places are torn down every day and that wasn't going to happen with the Spring Inn."
Pete is also proud to say the Spring Inn is where he met his wife, Becky. He adds, "It has become a meeting place for many couples."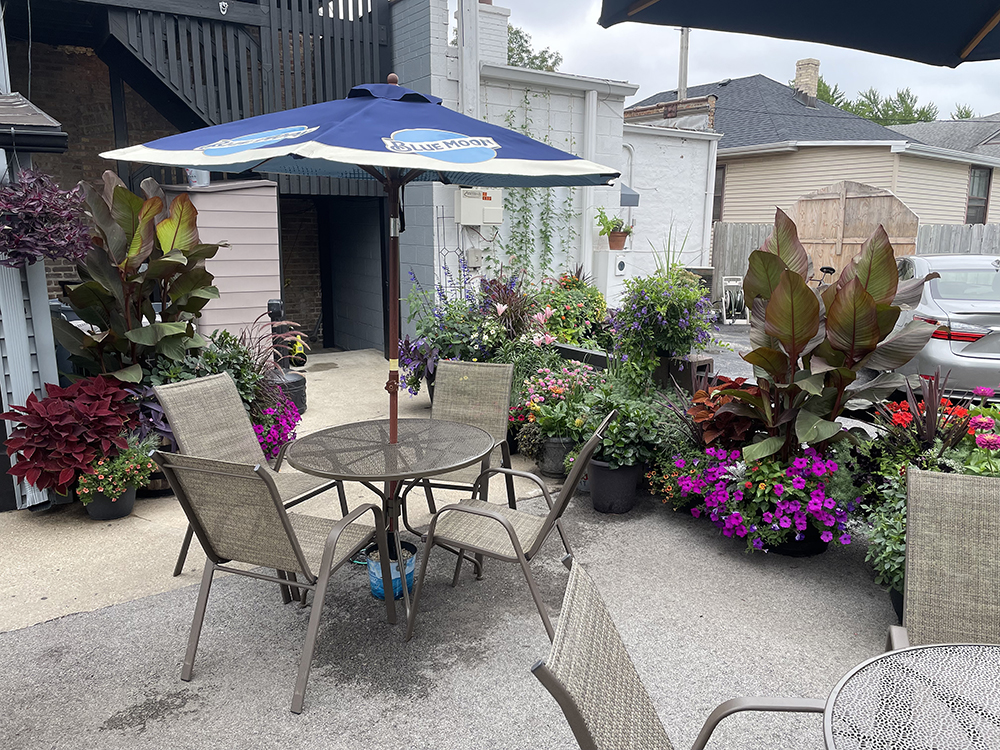 The Beer Garden
The Spring Inn is also becoming known for its Beer Garden, in which Pete showcases almost 200 types of plants each summer. "The compilation of plants is impressive to even the most experienced gardeners.
I've been an avid gardener with my Mom ever since I can remember," Pete said. "Our Beer Garden isn't the biggest, but you can enjoy a pleasant libation with one of the resident hummingbirds."
To keep things going in the colder weather, Pete and his staff have created over-the-top Halloween decorations and first-class Thanksgiving and Christmas decor to put people in the holiday spirit.
Even the St. Patrick's Day Parade started as an idea among some Spring Inn regulars who also owned businesses up and down Spring Road.
Today, the St. Patrick's Day Parade is the second-largest parade in Chicagoland and draws 25,000+ attendees. The Spring Inn is also an active participant with Riley's Gathering Place at the Dan Gibbons Turkey Trot each Thanksgiving.
As Elmhurst's oldest bar, Pete Harmon loves the Spring Inn more than ever. And so do the regulars.  ■