By Larry Atseff
Elmhurst's Eleanor King Hookham, a famous artist, an art teacher in her own right, and the driving force behind establishing the Elmhurst Art Museum (EAM), would be proud to see how the museum has evolved and grown since it opened in 1997 to offer notable art, art education, and architecture.
EAM not only brings essential works of art to the western suburbs and Chicago, but it has significantly broadened the education and participation of patrons and visitors, young and old alike, in making art. It capitalizes on its beautiful setting in Wilder Park and literally makes the park part of the displaying of art.
EAM also continues to pay tribute to the art of architecture with the Mies Van der Rohe McCormick residence on site, and it offers a self-guided tour of 14 architectural landmarks within walking distance of the museum.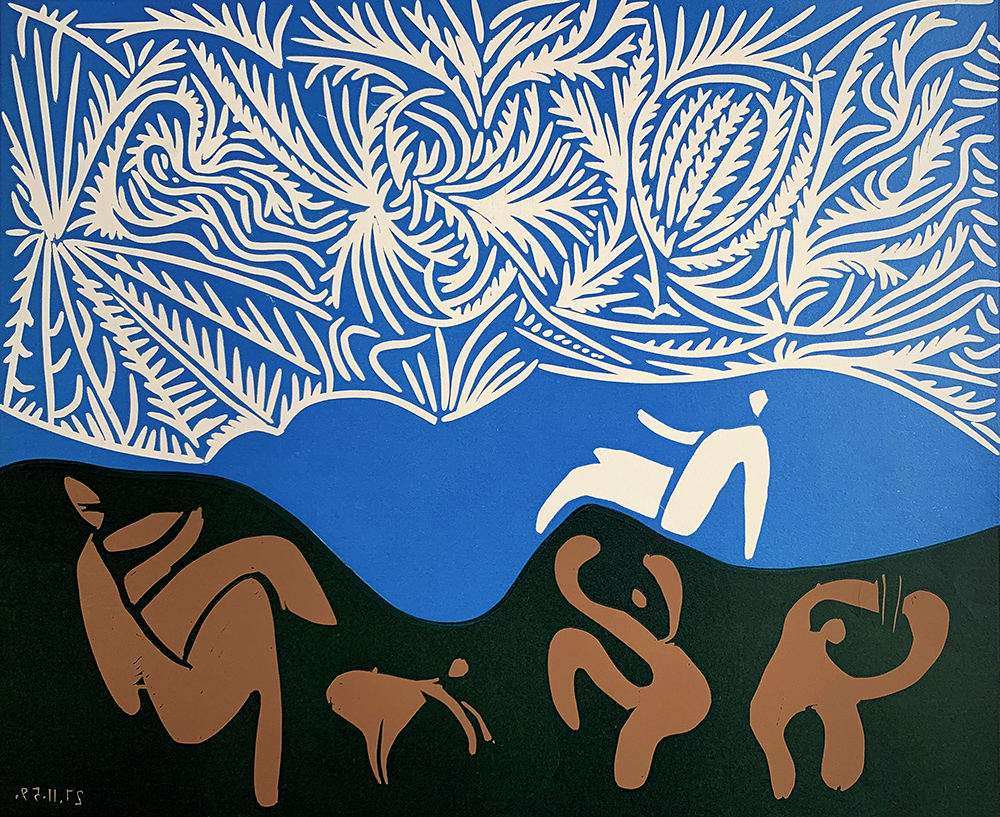 And, year by year, the paid attendance and reputation has grown. But great art just doesn't show up on the building's doorstep.
Credit the Board of Directors, corporate partnerships, and the current Executive Director John McKinnon, his staff, and the many volunteers for their efforts over the years.
Elmhurst Magazine recently sat down with McKinnon to better understand why EAM is so successful. Currently, it is winding down a showing of the art of comics spotlighting Marvel Comics artist Alex Ross and is getting ready to be a significant part of the worldwide celebration of Pablo Picasso on the 50th anniversary of his passing.
McKinnon said, "It takes a considerable amount of creative thinking, ideas, and planning to show artists how EAM is capable of showing their works to the best advantage, and then attracting audiences. After all, we are competing for some of the biggest names in art."
McKinnon explains, "We have to plan years in advance. We think about what we can bring to people to stimulate their interest in the arts. We look for ways to engage people, especially in the summer. For example, a couple of years ago, we created a fully playable miniature golf course inside the museum. Each golf hole was created by a different artist or designer, ranging from a maze-like castle to a fortune-telling piece.
"Attendance soared. That gave us a clue."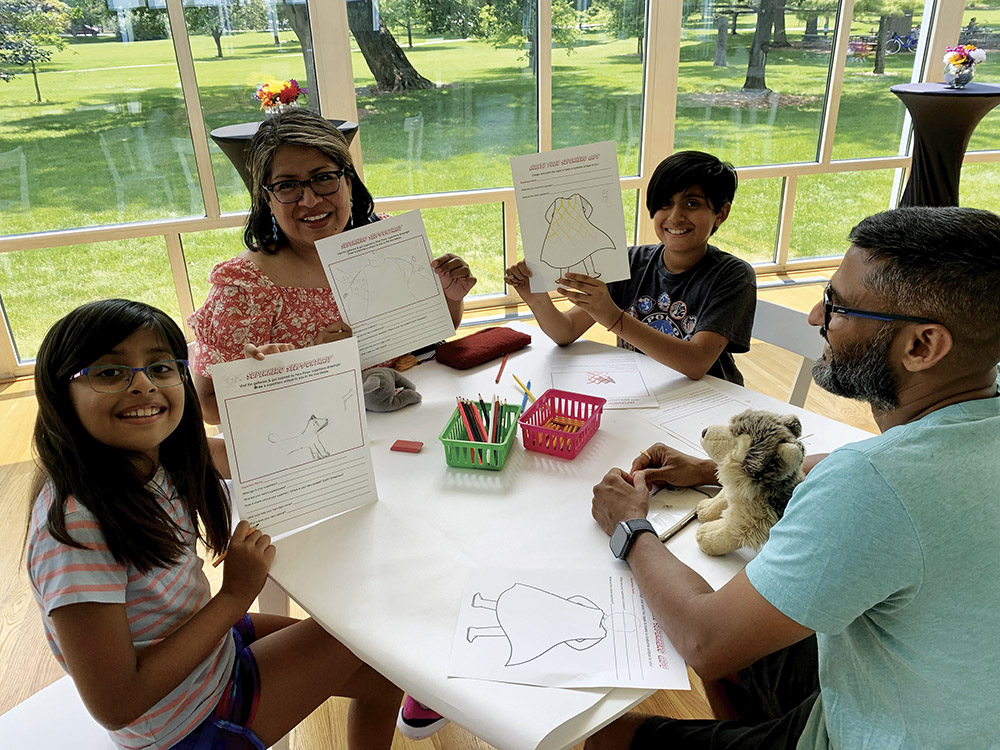 "This past year, we heard that Alex Ross, a Chicagoan, had a traveling display of his work, and discussed with the original venue, the Dunn Museum, him how we could not only display the exhibit but also expand it locally with complimentary programs, to give people, especially young people, a chance to learn how to explore the art of comics and think about everyday heroes in their lives. Our committees and board were very supportive."
And that's how Marvelocity came about, starting in early May and running through August 20.
A bit of background about the Marvelocity opening. The Elmhurst Art Museum partners with the Elmhurst Park District and other local businesses to produce the Annual Art In Wilder Park festival. Each Spring, the festival showcases 125 booths of local artists, hands-on family activities, and food vendors.
It was agreed that Elmhurst Art Museum and the Elmhurst Park District would kick off "Marvelocity" with life-sized superhero sculptures the same weekend as Art in Wilder Park to increase excitement and interest. So, from May 6 through July 31, visitors could find eight Superhero sculptures throughout Wilder Park, complete with free audio tours from each local area artist on how and why they created their works.
Then, starting in early June, inside the museum walls, visitors saw early childhood drawings by Alex Ross and how he evolved to become one of the great artists in the field of comic books. His illustrations and sculpture busts of Spider-Man, Captain America, Iron Man, Storm from the X-Men, the Avengers, Black Panther, and more were also on display.
Kids were given a "hands-on" opportunity to become their own superheroes by designing a costume for themselves. Teens and adults were offered classes in "Costumed Figure Drawing."
All in all, over 4,000 children and parents have enjoyed Marvelocity in the museum, not to mention the thousands who also enjoyed the free display of the Superheroes in Wilder Park.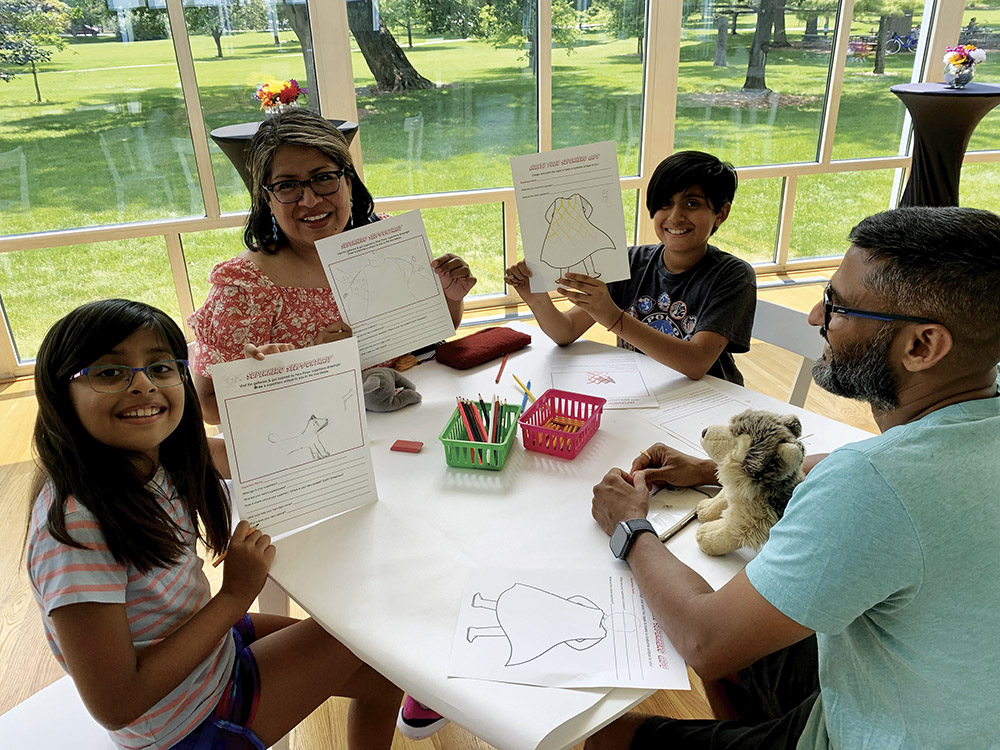 For good measure, at the same time, EAM also found space and time to honor Andy Warhol. As the Cleve Carney Museum in nearby Glen Ellyn was honoring Andy Warhol, the Elmhurst Artists' Guild obliged by showing works of local artists inspired by Warhol in an EAM space. Currently, the museum also has a graphic on its exterior by Chicago street artist Sentrock.
Now comes "Picasso: Fifty Years Later." This exhibition will run from September 9 to January 7, 2024 and is timed to coincide with the 50th anniversary of Pablo Picasso's death in 1973.
The exhibit will have three parts. It begins with Modern works from the Sally J. and Raymond J. Allen collection, including an introduction to Picasso's work, his life, and his peers.
Included are several Cubist works showing how Picasso and artists responded to what is known as the Modern Age, marking the influence of technology on art. Besides Picasso, there will be works of peers such as Alexander Archipenko, Wifredo Lam, and Joan Miro.
The second part will be the debut at Elmhurst Art Museum of a nationally touring show entitled "Picasso and the Progressive Proof: Linocut Prints from a Private Collection."
This includes 17 progressive proofs that show the detailed steps and demanding linoleum block printmaking process that enabled Picasso to experiment with several of his recurring themes, such as subjects by the Old Masters, the Spanish tradition of bullfighting, and classical mythology. It is significant that EAM was chosen to debut this show as it will then travel to other museums across the country as part of the worldwide tribute to Picasso.
The final phase of "Picasso: Fifty Years Later" will include a curated selection of works by area painters Laura Berger, Liz Flores, Richard Hull, Leasho Johnson, and José Lerma, along with a discussion of the influence Picasso has had on their works.
Now you have a better appreciation of current exhibits and what it takes to create them. Enjoy. ■