By Scott Jonlich and Larry Atseff
Photos by Victor Hilitski
When there was a shooting at Oakbrook Center two days before Christmas in 2021, various law enforcement agencies quickly became involved, starting with nearly 300 police officers from Oak Brook and other communities who arrived at the scene.
The work of officers from several DuPage County departments, the State's Attorney's Office, and the DuPage County Sheriff's Office all were part of the response to the incident and the ensuing investigation. But one other organization, more behind-the-scenes than the others, also played a key role in the work that led to two suspects being charged in the incident.
This story takes a look at that organization, the DuPage County Crime Forensic Science Center (FSC) located in Wheaton, Illinois, and a division of the DuPage County Sheriff's Office.

---
"One of the most valuable other technical sources for evidence are cell phones"
– Sheriff Jim Mendrick
---
Hinsdale Magazine Group Publisher Scott Jonlich and Editor Larry Atseff met with DuPage County State's Attorney Robert Berlin, DuPage County Sheriff James Mendrick, and Crime Lab Director Claire Dragovich to learn how they have become so effective in working together.
A second part of this two-part series will provide insight into how these agencies work together to ensure safe and enjoyable shopping in this upcoming season.
Since 1971, DuPage County has been the only county in Illinois with its own crime lab.
"Having the Crime Lab on the same campus as the courthouse, the Sheriff's Office, and State's Attorney's Office makes it easier and more efficient for my prosecutors to meet with lab professionals and prepare for trials," Berlin said.
"Further, with that access, evidence collected at the scene of a crime, when necessary, can quickly and accurately be processed so that suspects can be properly charged."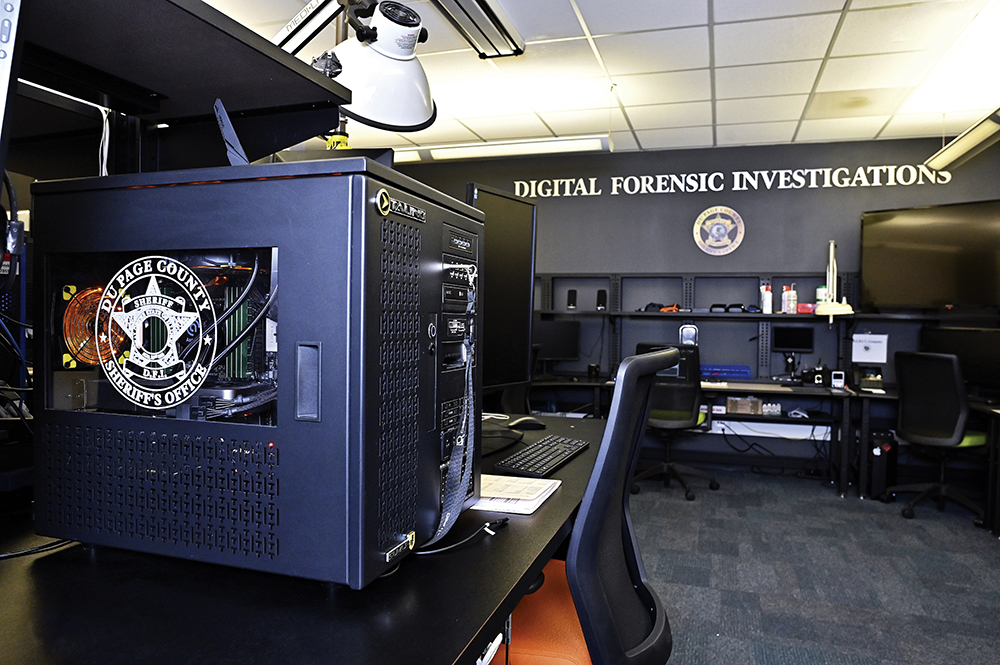 Crime Lab Director Claire Dragovich explained how the lab can quickly and thoroughly examine the evidence.
"Fortunately, the Sheriff's office has a staff dedicated to collecting evidence properly from the crime scene and bringing it to the crime lab," she said. "That allows our forensic scientists in the crime lab to focus solely on examining and testing evidence."
Dragovich said forensic scientists in the lab validate new instrumentation and ensure on an on-going basis that all quality control checks are successfully passed prior to using equipment in casework.
"In addition, the equipment used is state-of-the-art and allows us to conduct DNA analysis, drug identification, and fingerprint analysis," she said. "We also have access to fingerprint and DNA databases."
With advancements in DNA profiling techniques, Dragovich said the Crime Lab is better able to extract DNA from various sources, such as blood or saliva, and compare it to a database of known DNA profiles.
"This process helps us to potentially provide investigative leads," she said. "Our DNA analyses have proven instrumental in assisting in solving many high-profile cases."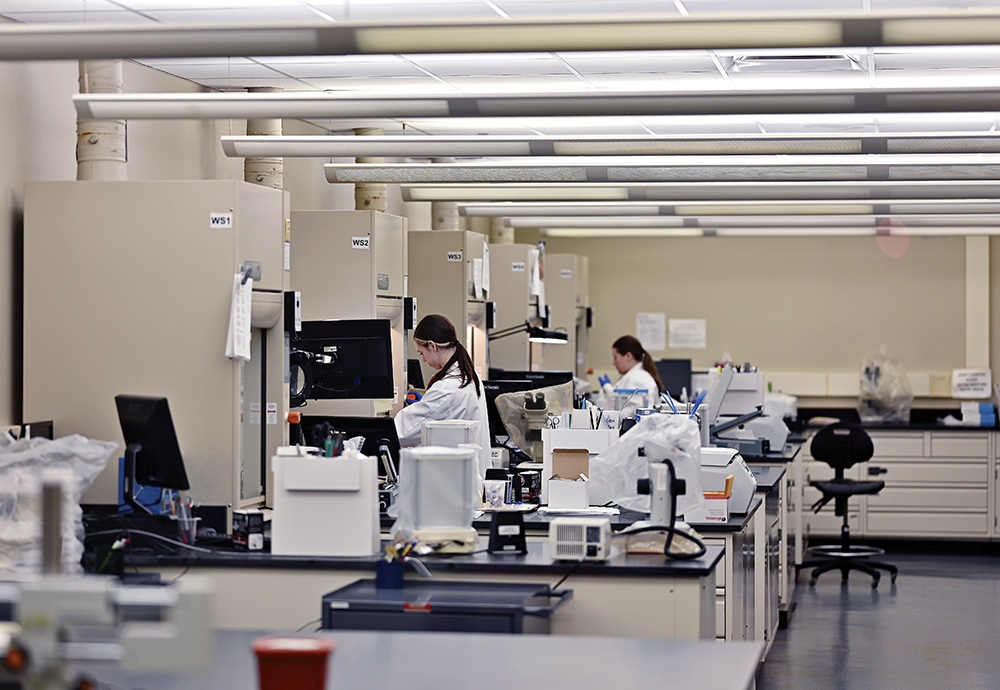 And in fingerprint analysis, the lab uses traditional methods and state-of-the-art techniques. "Today, we can examine unique ridge patterns and minutiae points on fingerprints better than ever," Dragovich said.
"Another key area of expertise is our drug identification and testing. With the widespread issue of drug abuse and the constant emergence of new substances, identifying drugs accurately is crucial. We use sophisticated instrumentation to identify and characterize controlled substances, providing critical evidence for drug-related cases."
Dragovich said that the lab not only has effective examination methods, but staff there also follows strict guidelines in executing chain-of-custody evidence procedures.
"We are very thorough and systematic in all of our work, and it all takes time," she said.
Because time was of the essence in the Oak Brook shooting case, Dragovich's staff was called in over the weekend to examine evidence, including two pistols police were able to recover. After following procedures, DNA on the guns was found, which served as important evidence.
"One of the most valuable other technical sources for evidence are cell phones," Sheriff Jim Mendrick added. "Criminals, like everyone, carry phones out of habit. Our ability to track the criminals' patterns as well as their messages is invaluable. We can open virtually any device, clone it, and then collect the data for analysis. Digital forensics extends into computers and other digital devices as well."
In Part 2, in the November/December issue, Sheriff Jim Mendrick will share how the systematic, county-wide training of police in the field fits in well with Metropolitan Emergency Response and Investigative Team (MERIT). ■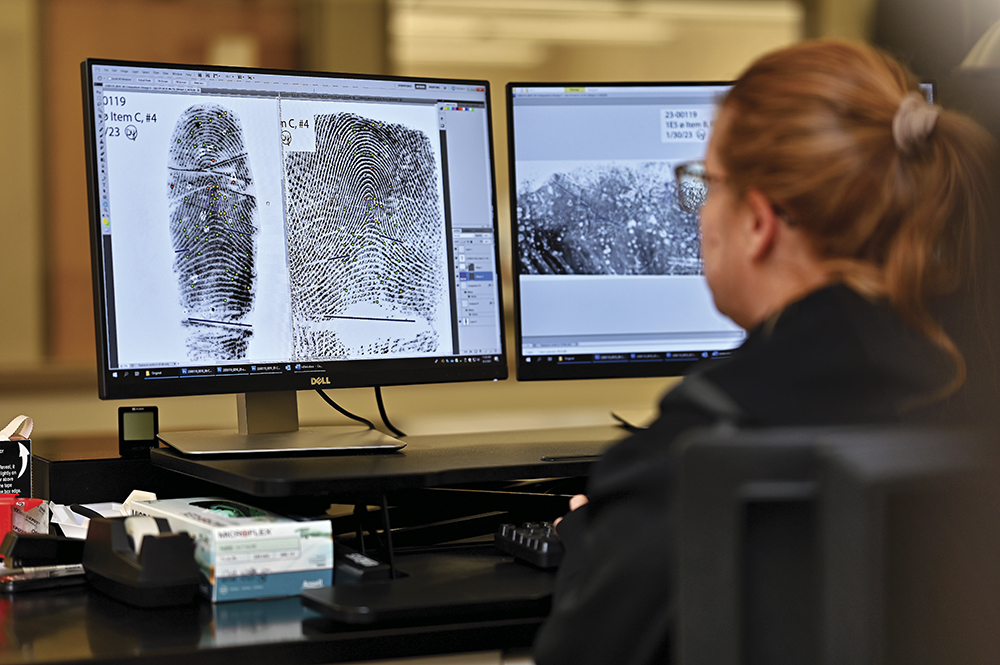 The DuPage County
Crime Forensic Science Center is CONSISTS of three laboratory
sections including:
1. The Chemistry Section analyzes evidence suspected to contain cannabis or a controlled substance.
2. The Criminalistics Section conducts analysis of evidence to determine if finger, palm, and footprints found at a crime scene can be identified as belonging to a suspect.
3. The Forensic Biology/DNA Section comprises Forensic Biology and DNA.  Forensic biology involves screening items for bodily fluids and preparing those samples for DNA analysis. This is followed by a DNA analysis to attempt to obtain a DNA profile to be compared to known standards.