By Maureen Callahan
The open road. It's still the holy grail of travel. Route 66 was the first road that made the offer back in 1923. And millions of Americans accepted. Mr Ford had introduced his Model-T over a decade earlier. Americans had the vision to go west. Now they had a way to get there.
"If you ever plan to motor west, travel my way, take the highway that is best. Get your kicks on Route Sixty-Six," Bobby Troup penned as he traveled with his wife, Cynthia, to California in the 40s. They drove cross-country to L.A. to pursue his dream of becoming a Hollywood writer. Ironically, the best-known success of his career came out of that car ride. Nat King Cole got his ear around it, and the rest was history.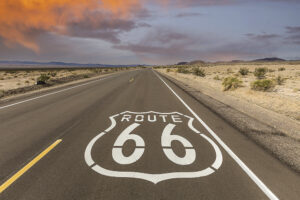 (Get Your Kicks on) Route 66 is one of the most well-covered songs in music, with hundreds of versions recorded by various artists over the years. It might be because the idea of a cross-country road trip-despite the convenience of air or rail travel- still appeals to many. Packing up the car and hitting the pavement offers us the chance to feel in charge of our own destiny. And destination.

Route 66 was a road paved by pioneers that attracted discoverers, dreamers, adventurers, and risk-takers. It was a path that appealed to anyone looking for a change- from those wanting to leave the Depression and Dustbowl in the rear-view mirror- to family vacationers. They packed up their cars and headed west across eight states and three time zones.
Route 66 was the main artery running through the heart of America. It followed a diagonal path that combined existing local, state, and national roads. At that time, most roads were trails blazed by early settlers on their way west.
Stretching from the corner of Jackson and Michigan in Chicago all the way to the Santa Monica Pier, the route spanned 2,248 miles. In between, travelers saw Missouri, Kansas, Oklahoma, Texas, New Mexico, and Arizona. It was a bumpy journey at first, as the highway was not fully paved until the late 30s.
Word got out about the shortest and most scenic cross-country route. Businesses opened to serve the needs of passersby. Route 66 became America's Main Street. Small towns- once considered the middle of nowhere- became somewhere.
Along the way, quirky/whimsical landmarks became photo-ops. Over time, they morphed into Route 66 icons. Some still remain: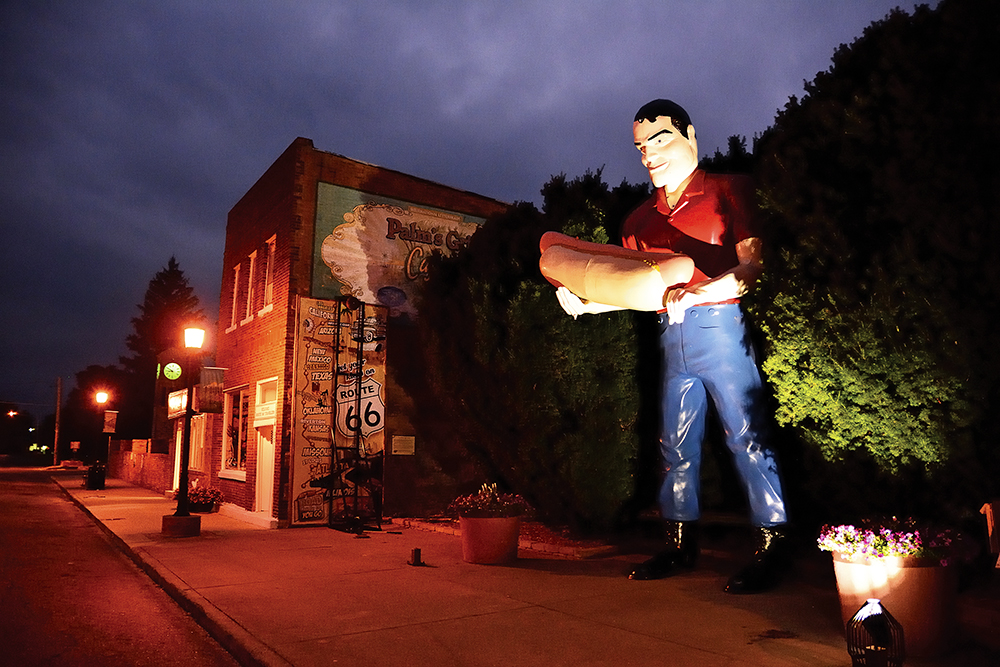 The Paul Bunyan Muffler Man (Atlanta, IL), a 19-ft-tall fiberglass sculpture of the character, still holds a gigantic hotdog in place of an ax. The Blue Whale (Catoosa, OK), an impressive replica of a giant mammal comprised of tons of rock, sand, and pipe, along with gallons upon gallons of blue paint, makes Ol' Blue one of the most photographed spots on the journey.
But there are more! The Golden Driller (Tulsa, OK) is 43,500 pounds of concrete and plaster. The 75-ft statue is a steel-framed depiction of an oil worker. It's also the sixth-tallest statue in the United States.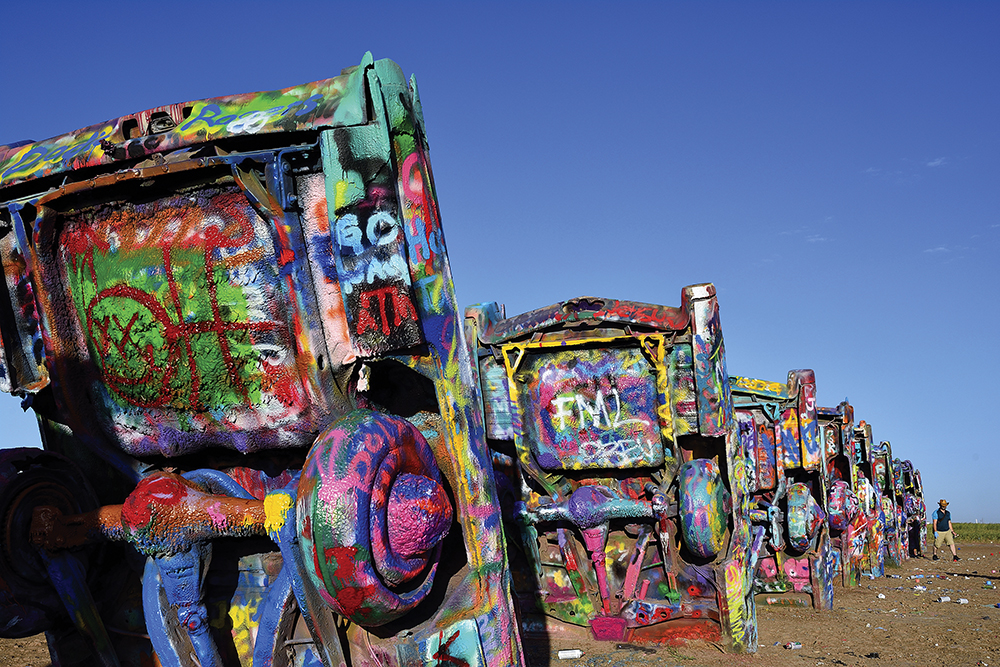 Cadillac Ranch (Amarillo, TX) features ten graffiti-covered Cadillacs artistically buried nose-first in the dirt at the same angles as the Great Pyramids of Giza.
Prepare to be amazed at Elmer's Long Bottle Tree Ranch (Oro Grande, CA). Elmer and his father collected memorabilia (read: trash), found over decades on father and son treasure treks in the desert. The results are displayed here. Nearly 200 bottles glimmer in different colors, arranged like a glass forest. You'll also find vintage gas pumps, junked cars, and figures sculpted from antique signs.
How about the classic roadside mom-and-pop diners that offered house specialties like prize-winning lemon méringue pie? Yep, they're around. You just have to know where to look.
The Cozy Dog Drive Inn (Springfield, IL), has Route 66 written all over it. It's the home of the corn dog on a stick, and they want you to remember it! The U-Drop Inn Café (Shamrock, TX) was the first commercial business that opened after the pavers rolled through. Patrons likely weren't picky, as it was the only eating establishment within 100 miles at the time. But if you don't like their menu, stay on the road until the MidPoint Café (Adrian, TX).
If you're thirsty, stop into The World Famous Sultana Bar (Sultana, AZ). A former speakeasy during Prohibition, there's a trapdoor that leads to underground tunnels that held an opium den.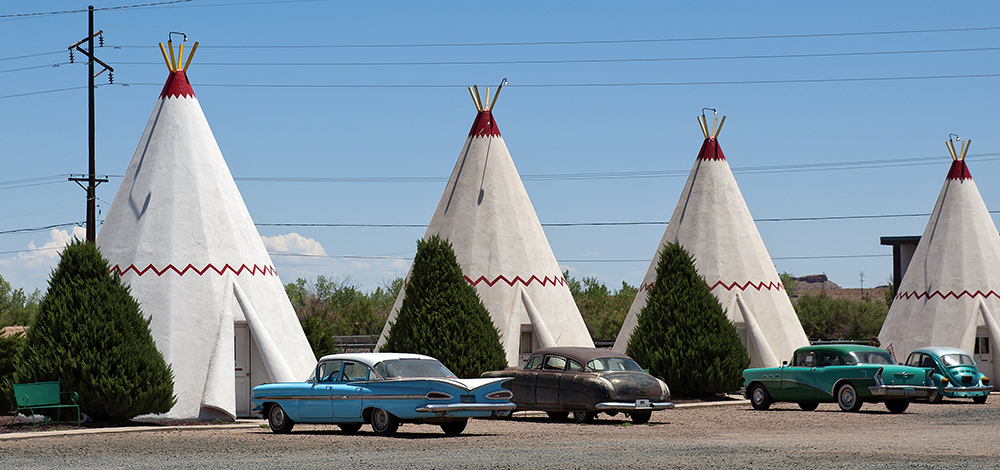 And what happened to the one-floor motels with neon 'vacancy' signs that beckon to weary travelers? Look no further than the Wigwam Motel (Holbrook, AZ). Try not to be too disappointed that they're actually tepees, not wigwams. Or, for a genuine Route 66, 12-unit, L-shaped motel experience, check into The Blue Swallow Motel (Tucumcari, NM).
Over the decades, attitudes about vacation began to change. In the mid-1900s, a major part of any trip was seeing the sights along the way. Single-destination travel via airplane became more appealing to many people. The road began to fall into disrepair. By 1956, Eisenhower signed the Federal Highway Act, which provided funds to construct a 41,000-mile network of interstates.
These new highways rapidly became the preferred roads.
Many businesses along Route 66 were shuttered. Board by board and sign by sign, they fell apart. Entire communities were abandoned and became ghost towns. Route 66 was removed from road maps in the mid-80s. While it is no longer an official highway, a trip across the country on the Mother Road is still possible. The places left behind are waiting to be found.
If you decide to go looking for this bit of American folklore, however, bear in mind that sections of the original road are completely gone. The highway has been realigned several times, in varying degrees- from sections that have completely changed direction to the pavement that has shifted less than a block.
The best-preserved parts of the old route remain between Springfield, Missouri, and Tulsa, Oklahoma, where you might still see a real-life cowboy or two. Arizona's segments west of Seligman and the Oatman Highway through the state's Black Hills are the best spots to go back in time.
A trek across this great country is not something you'll soon forget. Route 66 is the one to take for those seeking to understand America for themselves.